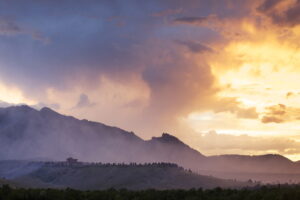 It's not even officially summer and Ontario has already suffered from another bout of wildfire smoke. With the increase in wildfires over the years, many homeowners have purchased air purifiers that are designed to clean the air in their homes. However, these portable devices have their shortcomings and aren't able to clean more than a room or two at a time.
When it comes to combatting not only wildfire smoke but also poor indoor air quality, the best defense is a good offense. That's why we recommend the installation of a whole house air purifier system. These systems are installed in your HVAC system to clean the air of every room in your home, hence the name "whole house."
What's In My Home's Air?
Some homeowners think that the air filter in their HVAC systems is helping to keep their indoor air clean. However, that's not the purpose of the air filter that you change every 1-3 months.
The main job of that air filter is to keep dust, dirt, and debris from entering your HVAC system's interior parts to keep it clean. Although it's incredibly important to how well your HVAC system runs, it really has little to do with your home's indoor air quality.
Another misconception among people everywhere is that their indoor air quality is better than the air outside. In fact, in many homes in Canada, the outdoor air is often less polluted than a home's indoor air.
That's because homes are designed to be energy efficient, airtight, and well insulated. That means the pollutants in your home have nowhere to go unless you regularly open your doors and windows. Which you certainly can't do when there are wildfires burning.
Many of the pollutants found inside a home come from the home itself. Here's a list of common indoor air pollutants that come from the people in your home and the things they bring inside.
Wildfire smoke and ashes
Bacteria and viruses
Home improvement chemicals such as paint and paint thinner
Cleaning supplies
Pests such as mice, dust mites, and cockroaches
Pesticides and fertilizers
Dust and dander
Mold spores
Secondhand smoke, wood-burning smoke
Air Filtration Vs Air Purifier Systems
It's hard to schedule an appointment for a home filtration system if you aren't sure what your options are. When it comes to indoor air quality, you often have two things that help keep your air clean: air filtration systems and air purification systems.
Air filters work to filter out contaminants, dirt, dust, and other debris that could lower your indoor air quality. These filters can either be reusable in which case they need to be cleaned every 1-2 months. Or they're disposable, meaning they should be replaced when they become too clogged.
Air purifiers use UV light or ionization to kill viruses and bacterial cells that could otherwise affect your personal health.
If you are interested in learning more about air filtration systems and air purifiers, give our team a call. Our technicians will be happy to discuss your options and ultimately help you select a system that'll best meet your needs.
Contact Peatson's Heating and Air Conditioning Ltd. for reliable air filtration and air purification system installations in Oakville, ON!