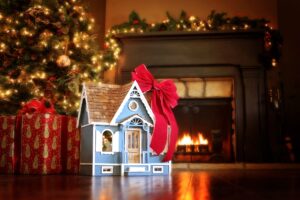 The holiday season is upon us! Not only is it one of the most magical times of the year, 'tis the season when you'll need to heavily depend on your furnace. Plummeting temperatures and an increase in visits from family and friends add up to using your furnace a lot more. But are you sure your furnace is up to the task of keeping your home, family, and guests warm and cozy?
One way to be certain your furnace will operate at peak performance is to schedule routine maintenance. Consider the gift of furnace maintenance in your Oakville, ON home for the holidays. Yes, we know that signing up for a maintenance plan isn't the first thing that comes to mind when thinking about gift ideas. But ensuring the reliability of your furnace really is a gift that keeps on giving throughout the year.
We've compiled a "nice list" of four important ways that routine maintenance benefits you and your home. Grab a mug of hot cocoa, settle around the tree, and read on.
Increase the Longevity of Your Heating System
While it seems like the cost of everything has been rising, the easiest way to extend the life of your furnace is through regular maintenance. Consider it to be an investment in your home's most essential system. If your furnace is older or newer, you want it to last as long as possible. For a newer system, routine maintenance is usually a requirement for the warranty. And for older systems, having it maintained is crucial to ensuring it runs as long as possible.
Save Energy and Money
Here's a fact that often astonishes homeowners: when a furnace is maintained regularly, it'll operate at a rate of 95% efficiency. A furnace that runs efficiently automatically uses less energy and costs less to keep your home at optimal heat levels. That will result in automatic savings to both your energy bill and your energy usage.
Reduce the Need for Emergency Repairs
Most people are surprised to learn that 85% of furnace repairs can be avoided through routine maintenance. There's nothing worse than unexpected repairs that could've been avoided altogether with regularly scheduled tune-ups.
The need to call for emergency repairs during the holiday season is the worst. Not only can they be costly, but you also don't want anything to interfere with the joyfulness of the holiday events you have planned in your home. You can avoid the hassle and headache of costly emergency repairs during the cold, holiday season by investing in routine furnace maintenance today.
Safety
Routine maintenance is an investment in your home's and your family's safety. Both gas and electric furnaces run the risk of being a safety hazard, especially when it hasn't been properly maintained. During routine furnace maintenance, our technicians will check for any potential safety hazards such as loose connections, frayed wires, and malfunctioning sequencers.
The various options available for our maintenance program will ensure that you get the absolute most out of your HVAC system.
Don't hesitate to contact Peatson's Heating and Air Conditioning Ltd. today with any questions you may have.