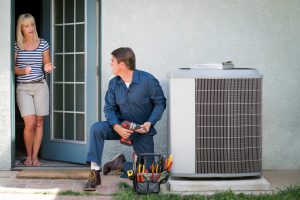 When you need air conditioner service, you're not really in the market for a person but a service. However, our experience shows that when homeowners choose an amateur for a job, no matter how small or large, they're getting subpar service.
The first thing we hear from homeowners is the question, "How can I tell if a technician is qualified for the job that I need them to do?" That's a good question and one that we seek to answer in this blog post. An AC repair in Brampton, ON is not meant to be performed by amateurs, and it's up to homeowners who know the precise qualifications they need to spot the great contractors from the mediocre ones.
What are those qualifications? Well, let's take a look at what certifications, affiliations, and other titles mean so that you can better assess how professional your prospective contractor is. Remember, our team members have all of these qualifications if you're looking for a good place to start!
What Sets Them Apart
What sets a great contractor apart from a mediocre one? Licenses, affiliations, and solid guarantees. Who is affiliated with your prospective contractor? What kind of training have they completed and how well-certified are they? These questions can be answered by just a little bit of background research.
Manufacturer Partnership
Here at our company, we're York Certified Comfort Experts, which means we're partnered with York. This means a few different things. For starters, not every contractor gets partnered with a high-end manufacturer, so that means some amount of trust is placed in us that we represent their business ethically.
Secondly, having a partnership with a brand like York signifies that we trust their products. A partnership like this is only formed because our technicians trust the technology and hardware that's manufactured by York, and we're more than happy to provide these system installations and repairs for homeowners. Some contractors, like us, have been in business with York for over fifty years! We're not trying to brag, but this can be a big deal for homeowners looking for their next prospective contractor.
Licenses
What kind of license do your service professionals have? If the answer to that is "I don't know," or "none," then you've got a problem on your hands. If a team has any semblance of professionalism, then they're at least licensed service mechanics, or in the case of ductwork, licensed sheet metal mechanics. If you're looking to compromise that, then you've got no guarantee that your job won't be botched.
Guarantees
Guarantees, while technically not a qualification, should be immensely important to homeowners looking to have their air conditioner repaired. Guarantees are not only helpful for homeowners who are smart with their money and want to be sure that they're getting the best service, but they also signify trust.
A contractor who offers a guarantee, like our all-encompassing guarantee, has confidence that their work will show for itself. We don't need to rely on sales gimmicks or sly tactics to get you to invest in our work. It's good enough that it will speak for itself, and if it doesn't, you get your money back. It's that simple!
Get in contact with Peatson's Heating and Air Conditioning Ltd. All our work is guaranteed, so you know you're getting the best.