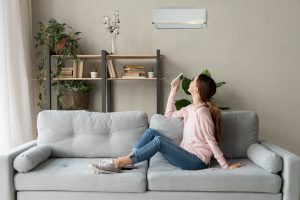 If you're on the market for a new air conditioning system, then we've got some news for you. There are more options out there, aside from a central air conditioner or a heat pump, there are ductless air conditioning systems that can cool your entire home without the use of air ducts. If that sounds like a nifty idea, trust us, it gets much better.
Ductless air conditioners provide an alternative method for cooling a home. From increased efficiency, to their functionality without ducts, to even their ability to heat a home as well, it means they're absolutely perfect for so many homes. The problem is that so many homeowners don't know enough about them.
So, today we're going to try to help inform those prospective owners of a ductless AC in Brampton, ON. We'll detail some of the unique benefits they'll get as well as talk about how this system functions in general.
Take Advantage of Ductless AC
The point of us telling you about the benefits of such an air conditioning system is not to brag—but to help you take advantage of it. What's the point of an air conditioner if you don't use it to its full potential? It breaks our hearts when homeowners purchase heat pumps and only use them half of the year because they forgot they can heat a home as well as cool it. So, take a look below at some of the awesome benefits these systems provide.
Increased Efficiency. Ductless air conditioners function more efficiently than your average central air conditioner. This is from a combination of advanced technology, skipping the step of utilizing leaky air ducts, and the fact that they run at customized temperatures. If you're looking to reduce your energy bills or minimize your carbon footprint, get a ductless system today.
No Ducts, No Problem! Ductless air conditioners provide cooling without the need for air ducts. That means if you're a homeowner with a small or old home, then extensive ductwork might be out of the picture anyway. Save money on that kind of procedure with a ductless system.
Heating and Cooling. Ductless air conditions are also heat pumps, which means their functionality can be operated in reverse. When you switch the system's comfort mode to heating, it will begin bringing heat from the outside and depositing it inside where you want it. It's an effective, all-year-round, comfort system!
Customized Comfort. Since ductless AC systems utilize up to four air handlers in your home, they can be placed at strategic locations so your family isn't fighting over the thermostat like they used to. Cool different areas to different temperatures and eliminate hot spots altogether with this technology.
Call Us!
Ductless systems aren't offered by every HVAC contractor. They're more complicated to install and repair because they're a bit more advanced than your standard central AC unit. This isn't a bad thing since it contributes to its high efficiency, but you're going to want a team to install it that knows what they're doing.
Call the team at Peatson's Heating and Air Conditioning Ltd. today for your ductless system.