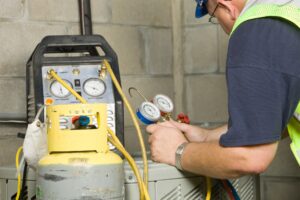 With temperatures warming up a little bit, now is the perfect opportunity to invest in AC maintenance. There are lots of reasons to do so, each of which can save you both time and money in the year to come.
The following are just some of the benefits you can look forward to when scheduling your AC maintenance this time of year. Just make sure that you invest in the future and valuable equipment that you depend on year after year!
An Opportunity For A Refresh
Springtime is a great reminder of the importance of rejuvenation and the value it can bring to your life. In this regard, it can also serve as an excellent time to check up on your AC system. With everything blossoming and beginning to prosper, there's no better season to emphasize the health and well-being of your cooling equipment. You clean out your home, work on your garden, and prepare your landscape in the Spring. Why not treat your AC with the same care?
Great Availability
With the advent of Spring and warm weather comes a lot more flexibility in terms of where and to what capacity many AC technicians are available to work. For this reason, availability for services such as AC maintenance tends to open up in the Spring, leaving you plenty of options to choose from when it comes to booking an appointment that fits your schedule. This can be a major convenience, and can really make all the difference if you're got a busy life that won't cater to the needs of your AC system.
Supports Efficiency
It goes without saying that maintenance is a key practice in supporting the lifespan and performance of your AC unit. As an opportunity to assess, identify and mitigate potential risks, maintenance is essential to preventing untimely and costly repairs down the road. Spring is a great time to do this because it allows you to start the season with a clean bill of health for your AC, and can save you a lot of headaches in the long run.
Preps Your System For The Summer Ahead
While less active during the winter months, ACs tend to rack up usage as seasons progress from Spring to summer. Just months away is heat and humidity, and with it an inevitably high demand from your air conditioning system. Given how much you rely on it during the summer months, taking the time to prepare your AC unit during the spring can be extremely helpful in making sure it's ready for increased work.
While important in general, checking up on the state of your AC during the Spring can be a very beneficial practice. Not only does it give you the chance to keep tabs on your unit's health, but it can also be a great opportunity to get it ready for the warm months to come. Don't wait until it's too late, schedule your AC maintenance today!
Looking for AC maintenance in Brampton, ON?
When you need help, contact Peatson's Heating and Air Conditioning Ltd.