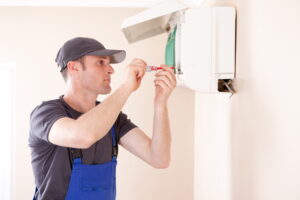 Many homeowners who've owned a heat pump for years are still surprised to learn that a heat pump needs maintenance twice a year. That's because the idea of HVAC maintenance occurring once a year is so ingrained in the minds of homeowners.
But if you have a mini split heat pump system or a ducted heat pump, it does need to be tuned up twice a year for maximum efficiency. Ideally, these maintenance appointments are scheduled in the spring and fall, once before the cooling season and heating season. This is how to really maximize the year-round comfort a heat pump provides!
If you haven't had this essential service done yet, here are 3 reasons why you should have it done ASAP. Contact us for heat pump service to make sure you can rely on your heat pump throughout the fall and winter.
1. Increased Efficiency
Whether it's a car or an HVAC system, any piece of complex machinery works best when it's been maintained on a regular basis. During maintenance, an HVAC technician goes through a lengthy process to make sure everything is working properly. This checklist of vital components helps ensure that your heat pump is running at peak performance.
A heat pump that's running efficiently means it'll heat your home quickly. You should notice few if any issues with its performance. An efficient heat pump means you'll also enjoy lower utility bills. We often say that maintenance pays for itself through decreased utility bills alone. It's a small price to pay to keep your home toasty and comfortable during our cold winters.
2. Less Chance of a Breakdown
With the cold weather and the holiday season upon us, the last thing you want is for your heat pump to break down. And the best way to prevent a repair need is through heat pump maintenance.
Maintenance is an opportunity for our technicians to check every component of your heat pump's operation to ensure it's working as it should. In fact, 80% of repair needs occur in HVAC systems that haven't been maintained regularly.
Heat pump maintenance is the best preventative measure you can take if you don't want to find yourself without a heating system on a major holiday, when your family is visiting, or on the coldest day of the year.
3. Maximize the Lifespan of Your System
When your heat pump was installed, you were probably told how long you could expect the system to last. The lifespan of a heat pump is 10-15 years. However, that range only applies to systems that have received regular maintenance.
Without this essential service, that lifespan decreases dramatically. Instead, you're looking at an early system replacement. And anyone who's bought a heat pump knows how expensive they are. Maintenance is an opportunity to protect your investment.
Maintenance is also a stipulation for most warranties. Don't risk voiding your warranty by skipping out on this essential service.
Contact Peatson's Heating and Air Conditioning Ltd. for reliable heat pump service in Milton, ON.