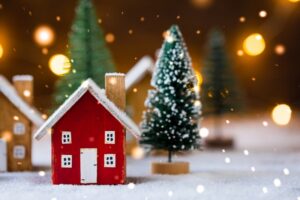 Fall is here, the leaves are changing, and Thanksgiving has come and gone. By now, you probably have a good idea of how your furnace is doing. Do you feel confident it'll sail through the holiday season as easily as Santa's sleigh through the sky on a clear winter night? Or do you suspect the need for a heating repair for your furnace is on the horizon?
The last thing you want interrupting your enjoyment of the holiday season is a faulty furnace. With many households expecting extended visits from family and friends, to hosting holiday parties and events, it's the perfect time to go through this checklist to make sure you've done everything you can to ensure your furnace breezes through the holidays.
Inspect Your Ductwork
The "V" in ventilation is often overlooked but your home's ductwork is essential to your furnace's performance. Although a professional HVAC technician is better equipped to do an in-depth inspection of your ductwork, you can do a simple visual inspection to check for any issues.
Take 10 minutes to look over the ductwork that's visible in your home. Look for tears, holes, areas where ducts are separating, or any drafts. If you see anything suspicious, make sure you get it checked out by a professional. You don't want to lose money to a loss of conditioned air–money that's better spent on holiday fun!
Get a Smart Thermostat
If you don't have a smart thermostat already, now's a great time to have one installed. A smart thermostat will easily pay for itself through energy savings. In fact, some estimates show that homeowners who install a smart thermostat save up to 25% of their energy costs! That's because smart thermostats help you with precise temperature control and monitor your heating and cooling habits to make subtle changes that can really add up over time.
Schedule Furnace Maintenance
We can't stress enough how important annual maintenance is for your furnace. Maintenance is key to ensuring that your system works as efficiently and as effectively for as long as possible. If you're having guests over and want to reduce the likelihood that your furnace needs a repair or goes down during their stay, a tune-up is essential to help keep your guests warm and toasty.
Change the Air Filter
If you haven't changed the air filter yet this season, go ahead and do so now. It's also a good time to make sure your home is well-stocked with replacement filters. When your household increases or you're doing a lot of extra cooking, you'll need to replace the filter close to the one-month mark that's recommended.
Clear the Vents
Check your home's vents to make sure nothing is blocking them. The vents were placed in certain locations so that they do what they're intended to do. When they're obstructed by furniture or boxes, those objects are interfering with the airflow in the home. Make sure your vents are open and not blocked, unless you have a reason otherwise to shut them.
Contact Peatson's Heating and Air Conditioning Ltd. for reliable heating repair in Oakville, ON.