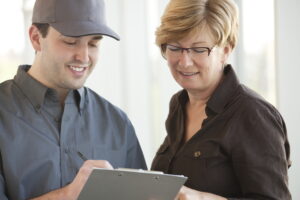 Before you get stressed out thinking there are seven problems wrong with your furnace, let us preface this by saying that you might only fall victim to one or two of these issues. Not everyone sees every problem that could possibly come up with their furnace, but it's a good idea to know what to expect!
During the springtime, we get called for furnace repairs in Georgetown, ON quite often because of some pesky things that can crop up at the end of the season. That's why it's a good idea to call us at the first sign of a problem since we'll be able to diagnose if anything else has gone wrong with your system as well.
If you're ready to look forward and get your furnace situated for the fall and winter to come in a few months, then keep reading. We'll go over some common springtime problems that furnaces run into.
1. Indoor Air Quality Issues
The first problem that comes with springtime is air quality issues. As the snow in our area melts, it can release all sorts of dust, debris, dirt, and contaminants into the air that enter our homes and clog up the air filters of our furnaces. This can be especially bad when you open your windows and doors on that first warm day of spring, only to have the wind pick up and drag everything into your home to choke up your furnace. Change out the air filter frequently and call us for more help.
2. Efficiency Decline
Your furnace just spent a whole frigid winter pumping your home with hot air. This could cause some problems with efficiency just based on how hard it worked, and there could be a repair that needs to be made in order to prepare it for the next winter.
3. A Loose Part
Do you hear a rattling or clanging coming from within your heating system? That's because you've probably got a loose part that either needs to be replaced or securely fastened into your home. Our team can help with this if you call us for repairs.
4. Dirty Burners
Over time, dirt and grime can build up on the burners of your gas furnace. This can lead to inefficiency but also a "booming" noise that sounds like a miniature explosion. That booming is the sound of delayed ignition as gas pools up in the combustion chamber. Don't let this hurt your heating system, call our team for help.
5. Leaky Ducts
All that expanding and contracting of your ductwork has left it weaker and in need of help. Unfortunately, there's no way to run your furnace next winter without the help of your ductwork, so it's important that your air ducts are in good condition going forward.
6. Thermostat Failings
If you're tired of your thermostat giving you wrong readings or constantly shutting off due to some electrical issue, then call us. You could be in need of a new smart or Wi-Fi thermostat that could help keep your home running efficiently!
7. Wear and Tear
Simply put, your furnace has run a lot this winter and it's up to you to have it repaired when you notice something wrong. Just the wear and tear of constant use can pay a toll on the system, and if anything seems off or doesn't make you comfortable, then we promise our team can help.
Call Peatson's Heating and Air Conditioning Ltd. for help with your furnace.