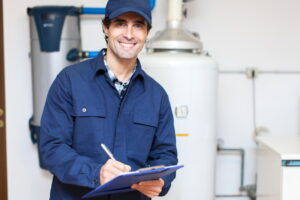 If you've switched from having a tank water heater in your home to a tankless water heater, we'd bet you're very impressed with its performance. No more running out of hot water during a shower and lower energy bills are just a couple of the advantages of tankless water heaters.
However, just because your tankless water heater seems superior to the tank version you had before, that doesn't mean it's so amazing it can get by without any maintenance. In fact, maintenance is just as crucial to a tankless water heater as it is to a standard model. Let's look at the reasons why this is so you'll know the signs you need tankless water heater service.
The Effects of Hard Water on a Tankless Water Heater
Unfortunately, the effects of hard water are something homeowners in Ontario have to deal with. Hard water contains minerals such as calcium and magnesium that can wreak havoc on not just your tankless water heater, but on your plumbing as well.
When hard water causes mineral deposits to build up inside your tankless water heater and pipes, it's called scaling. Scaling can negatively impact your tankless water heater's heat exchanger. The aptly named heat exchanger is the component that's responsible for heating the water.
This component needs to be clean and free of any buildup so that it can do its job effectively. Scaling can prevent the heat exchanger from doing its job and eventually the tankless water heater can be overworked to the point of breakdown.
When scaling is affecting your tankless water heater, you'll notice it when a "hard water sandwich" occurs. This occurs when you're running the hot water and it goes from cold, to hot, and then cold again. This again goes back to problems with the heat exchanger. When it gets coated in mineral buildup, it can't work effectively, and some water may pass through without being heated.
What Happens During Tankless Water Heater Maintenance?
One of the main things that'll be addressed is this buildup of sediments. Your technician may need to perform a system flush on the tankless water heater. Cleaning the filters and any sign of hard mineral buildup are some of the essential steps of tankless water heater maintenance that'll restore your system to top-notch condition and performance.
How Often Is Tankless Water Heater Maintenance Needed?
This depends on a few factors including how much hard water there is in your system. A professional plumber can test the level of hard water in your home. Generally speaking, tankless water heater maintenance should be performed once a year. If your water is particularly hard, twice-a-year tune-ups may be necessary.
For a new tankless water heater, you should check your warranty to determine how often tankless water heater maintenance needs to be performed in order to meet the requirements of the warranty.
If you've recognized the many benefits that a tankless water heater provides, the best way to keep it working well is with regular maintenance.
Contact Peatson's Heating and Air Conditioning Ltd. for reliable water heater service in Milton, ON.