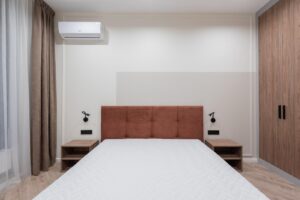 Ductless HVAC systems are becoming more popular and for some very good reasons. They're efficient, they're convenient, and most importantly they don't need ductwork at all. This can be a huge draw for new homeowners and people who have ducts in bad condition that need a fresh start.
With ever-evolving technology comes the need for homeowners to learn about it. So, as the experts on air conditioning in Georgetown, ON, we've decided to give you a list of some benefits that ductless HVAC systems can grant.
Remember that these systems are complex. Newer, more efficient technology can cost more to install and it can also be harder to find professionals to repair them. That's why our number should be the only one you need when you're thinking about investing in a ductless HVAC system. We provide great rates on high-efficiency cooling systems and the experience to get the job done right.
1. Versatility
Air conditioning during the summer can be a contentious topic in your household. When your kids want the temperature to be 18°, but you know the temperature should be closer to 21°, you'll start fighting over the thermostat to the point where people get hurt or angry.
Ductless HVAC systems are versatile. Because they work from separate air handler systems in different areas of your home, you can simply set them to meet different temperature settings. Your kids can have their slightly chillier rooms and you can have more energy-efficient temperatures, and everyone can be happy!
2. Safeguards
When a central air conditioner breaks down, it can mean a hot home for days on end while it gets fixed. However, when a ductless mini split breaks down, you still have the other units in your home working perfectly fine. Close some doors and enjoy the quality comfort from the working units while a professional fixes the one that's broken.
3. High Efficiency
It's no secret that ductless HVAC systems are incredibly efficient. This is due in part to their ability to cool an entire home without the use of air ducts. Ductwork is an old-fashioned solution to air distribution that can be the source of many problems, like leaking air and the circulation of contaminants. Ductless HVAC systems represent a new, innovative way to look at comfort that's also energy efficient.
4. Heating and Cooling Capabilities
Did we mention that ductless systems are also heat pumps? This means they can both heat and cool your home throughout the entire year. If you've got a struggling heating system that also needs to be replaced, then a ductless HVAC system can be the perfect new unit for your home. Sometimes, ductless systems are also great additions to your existing heating system, so you've got the option of either one when temperatures get cold.
5. Great for Additions
Are you thinking of adding on to your house? Or perhaps you're going to be doing some remodeling and you want an aesthetically pleasing home? Ductless systems are perfect for home additions because you can just add another mini split to the system and enjoy quality comfort. Also, they often look sleek and futuristic compared to old, dusty air vents that can be unappealing.
Click here to contact Peatson's Heating and Air Conditioning Ltd. so you can achieve ductless comfort!