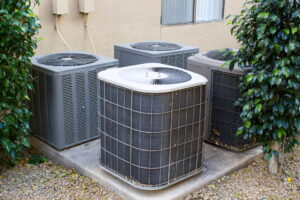 Air conditioners come in all shapes and sizes, and it's important to treat yours like the unique piece of equipment that it is. Your air conditioner was installed specifically for your home, which means it needs to run to your standards and cool your home off the way you want it.
Unfortunately, many homeowners don't know that the way they set their air conditioners up and operate them can impact the efficiency and effectiveness of the system. Depending on your type of thermostat, the settings you input, and other factors, you could be setting your system incorrectly and causing it to run poorly.
Don't worry, our team can help with all of your needs when it comes to air conditioning in Mississauga, ON. If you have any questions about your AC running inefficiently, or you'd like to invest in some repairs, our team is the one to call!
Our Guide to Optimal AC Usage
In order for you to understand all of the ins and outs of AC efficiency, we need to show you how to correctly use your air conditioner. Don't worry, a lot of this information isn't publicly available anywhere, so it's not your fault if you haven't seen or heard any of this before. Just follow along and be sure to call us if you have any questions!
Invest in a Smart / Wi-Fi Thermostat
The thermostat is more than just a temperature-setting device. It's the connection between you and your air conditioner. It translates your comfort needs into a language that your AC equipment can understand, and is meant to make your home more convenient and comfortable.
Smart thermostats are a great upgrade option because they allow for programmable temperature settings. They can even calculate your cooling habits and tell you where energy is being wasted, so you can remain comfortable and lower your monthly energy bills.
Wi-Fi thermostats are great too because they allow you to control your AC from anywhere with your smartphone. This means you can even control the temperature at home while you're at work or on vacation!
Think About the Temperature Differential
Realistically, a home can't be cooled more than a few degrees Celsius below the outdoor temperature. If you try and get your home at a comfortable 18° while the temperature is reaching 37° outside, all this will accomplish is having your AC run inefficiently while it struggles but never reaches that temperature goal.
Try running your AC at 27 degrees and utilize ceiling fans, cold drinks, and other methods of keeping cool.
Change Your Air Filter Regularly
Your air filter needs to be replaced every 1-3 months for your air conditioner to run efficiently. If you're running your system more frequently and experiencing heatwaves, then we'd suggest replacing the filter monthly until things cool down.
Choose a Quality Maintenance Program
Maintenance is incredibly valuable. Even though it's not something you do, it absolutely improves the efficiency and effectiveness of your air conditioner. It's suggested that an air conditioner loses, on average, about 5% of its energy efficiency for each year of maintenance that is skipped. Keep things running optimally by investing in maintenance.
Call Peatson's Heating and Air Conditioning Ltd. to improve your home air conditioning.