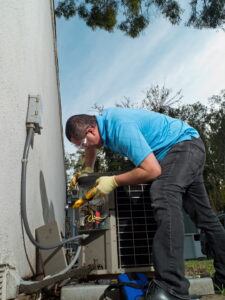 Okay campers, rise and shine, and don't forget your sneakers because it's warm outside!
All jokes and movie references aside, it's springtime which means it's time for barbeques, pickup basketball games, and maintenance. Well, if you're looking at that last item we listed in confusion, then you're in the right place. Maintenance is actually a very important thing that needs to be taken care of every year, and springtime is the perfect time to take care of it.
There are a lot of reasons why springtime is maintenance season, but we first need to start by explaining just how important maintenance services are. If you've been worried about the condition of your air conditioning in Mississauga, ON, or you're just trying to be proactive, then AC maintenance is the perfect place to start.
Keep reading, and make sure you call us to schedule maintenance when you're finished!
The Benefits of AC Maintenance
AC maintenance isn't a luxury, it's a necessity. Whether you get air conditioning maintenance now or later isn't really as important as getting it in the first place. This is because it's a regular service that's required for making sure your system works properly. Here are just a few benefits that come from maintenance services:
Improved comfort levels. What if we told you that maintenance would actually make your home feel better and more comfortable? We're pretty sure you'd be more inclined to schedule it. Well, it's true!
Better efficiency. Maintenance helps reduce your month-to-month costs in terms of energy consumption. A well-maintained system will cost less to operate.
Less frequent repairs. Frequent repairs are a hassle and a huge burden on your budget. By investing in maintenance, the majority of repair needs that your system would otherwise require are avoided. Anything else is noticed and scheduled in advance.
Extended system lifespan. The only way your AC will last 10 years and beyond is through maintenance each and every year. There's no way around this.
Why in Springtime?
This is an interesting question that we get from homeowners all the time. What's so special about springtime that makes it maintenance season? Well, for starters, springtime is just before summertime, when you'll need your air conditioner more than ever!
Also, springtime is what we in the industry consider a shoulder season, which means we're less busy with repair calls and emergency work. That means it's a lot easier to schedule a maintenance appointment at your convenience rather than when an opening appears in our schedule.
Schedule Today
Look, the most important aspect of air conditioning maintenance is that you have it done in the first place. If you're a proactive homeowner, or you're a new air conditioner owner, we urge you to call our team and schedule maintenance today. It doesn't matter if you skipped maintenance last year, or can't remember the last time it was done, what matters now is taking your best step forward and preparing for the future!
Contact Peatson's Heating and Air Conditioning Ltd. to schedule AC maintenance by a team of qualified professionals.