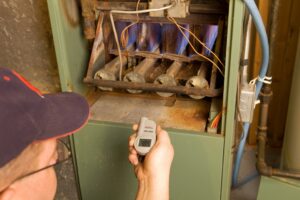 Fall is finally here! It's time to enjoy some spiced lattes, pumpkin pies, and the cooler temperatures that let us spend more time hiking and enjoying the colored leaves. We don't want to spoil the fun, so keep doing your favorite activities and be sure to call us when you need help.
However, if you're a vigilant homeowner or someone that's anxiously awaiting the heating season, then you're in the right place. We know how stressful being prepared can be, and we want to make customers feel better by helping them get ready as best they can. There are quite a few things you as a homeowner can do to ensure that your heating in Georgetown, ON works as intended.
Keep reading as we cover some great tips for you to get started preparing for the heating season. And remember to call us for repairs or maintenance!
Change Out Your Air Filter
The first and simplest thing you can do for your heating system to prepare for cold temperatures ahead is to change your air filter. If you've got a disposable one, you can just throw it out and insert a new one. However, if your air filter is reusable, you can wipe it off with a tissue or paper towel, and even rinse it and let it dry if you think that might be better.
Overall, this component is extremely important for the efficiency, condition, and longevity of your heating system. It's always a good idea to start the season strong by replacing the air filter so your system has the promise of clean, fresh air at the beginning. Just don't forget to replace it every 1-3 months, or at least every season!
Clean Around and Inspect Your System
Dust can settle over an unused heating system to the point where it needs a heavy-handed clean. We recommend dusting off the system, and clearing out at least 2-3 feet of space around the unit so it doesn't overheat and it's not causing a safety hazard in your home.
This will also make it easier for an HVAC professional to get access to your heater and perform necessary maintenance, repairs, or upgrades. The cleaner the area is around your heater, the better off you're likely to be.
Unblock Your Air Vents
You might have moved furniture around a lot this summer, but unfortunately, that could be inhibiting your home comfort. Be sure to check every room and make sure you don't have boxes, furniture, or other home equipment covering air vents and inhibiting the system's ability to warm things up during the winter.
Schedule Heater Maintenance
This is the perfect time to schedule heater maintenance! We know that your heater isn't exactly in heavy use right now, but it will be soon. This slow moment in between heating and cooling seasons is when we can perform thorough maintenance that works for your schedule! Just call us today to join our maintenance program and get started with an appointment.
Need some extra help with your heating system? Call Peatson's Heating and Air Conditioning Ltd.