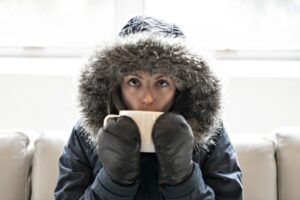 Heading into the fall months, you may be thinking about falling leaves and pumpkin spice, but it is also the perfect time to schedule fall furnace repair and maintenance. Even if you are not ready to turn the furnace on just yet, now is the best time to have a professional come out to inspect your furnace to ensure it is working. If you do need furnace repairs, we can get those taken care of right now.
Don't Run Them in an Unsafe Condition
Your furnace is one of the most important components of your home, and it needs updates and maintenance to keep it running well. Those maintenance steps also ensure your furnace is operating at a safe level, not putting your family at risk.
In some situations, a furnace that is non-working or not functioning properly can create a fire hazard. You may also be at risk for carbon monoxide poisoning if there is any buildup of this gas in your home due to poor venting of the furnace or damage to any of its exhaust systems.
Get Your Home Ready for the Cold Weather
It is not uncommon for us to receive calls from clients in the middle of the winter months, sometimes on the coldest days of the year, that their furnace is not running. This can lead to very costly and hard-to-repair situations. A furnace that is not maintained or has components that are wearing down, including belts, hoses, and the motor itself, is at a much higher risk of failure during those deep winter cold spells.
If you have a fall furnace inspection, tune-up, and repair or service, you can minimize the risk of those types of failures from happening. We can also spot and schedule repairs in advance. Your furnace will be better able to keep your home warm against those very cold temperatures to come this winter.
Your Technician Is Available
It is always a good time to call your heating repair technician, but doing so earlier in the year could mean that you can be more flexible with availability and service times. That is because, at the start of the season, before the cold weather really kicks in, there are often fewer service calls. As a result, your technician's schedule is going to be more open during the fall months.
That is also good news for you, not just because they can get you in, but because you can avoid the costly expenses associated with emergency repairs. We can also use this time to do a complete checkup and provide all preventative maintenance needs to ensure your furnace is ready to work optimally for you now and for years to come. If in the worst situation, you need to replace your furnace, there's time to get that done before it's too cold outside to manage it. The sooner you schedule repairs, the better it can be for you.
Contact Peatson's Heating and Air Conditioning Ltd. for reliable furnace repairs in Mississauga, ON!